How to warm up your mornings with savoury pancakes…
… and where do they come from?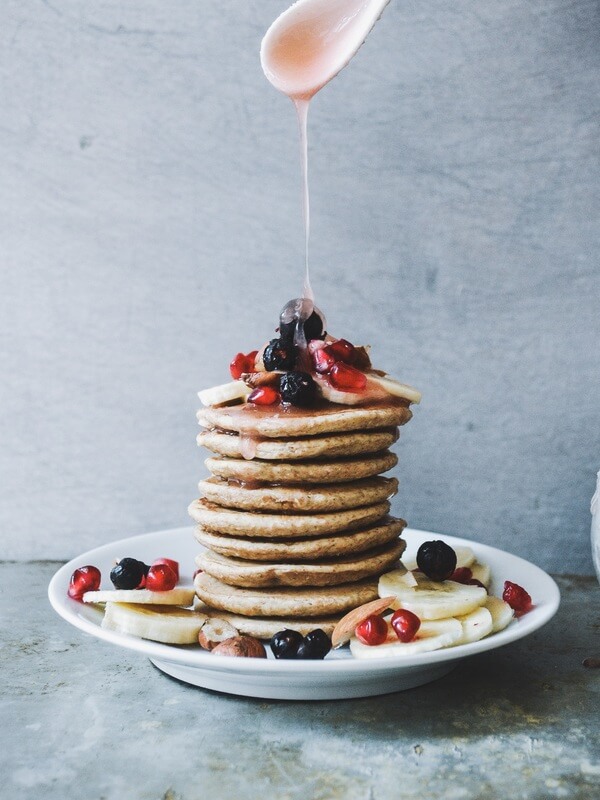 © Herbs & Roots
Not long ago we were sharing some #comfortfood recipes that'll keep your soul and body warmed up, in our #unspoken kitchen. Today, we're talking about hotcakes. Um, flapjacks; meaning pancakes!
Since ancient times, pancakes have popped up in various forms, in different places. Romans used to eat them, Greeks would enjoy them topped with honey and every culture tried to tailor these flat cakes with whatever was specific in their own culinary traditions. Some things have stayed the same, though, since then until this day: all across the world, pancakes have been cooked with flour, eggs, milk and butter – but today we have hundreds of options to make them eggless, dairy-free and gluten-free. Whichever you might prefer, here are some of the yummiest hotcakes for this winter!
SAVOURY
Chinese Scallion Pancakes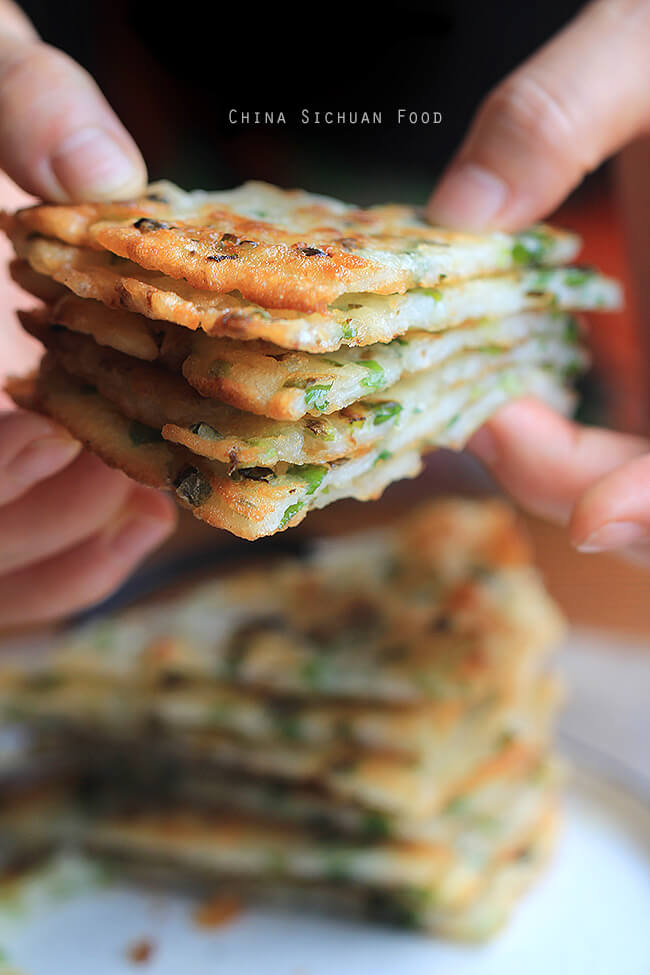 (source)
A pan-fried treat to stock up for December frosty days are these savoury pancakes that have a lot in common with Indian "parathas" and Romanian "placinte"; both simple, honest dishes that are easy to make at home. What you'll need is:
2 cups all-purpose flour (measure after sifting)
420-440 ml water
around 1 cup finely chopped scallion (wash and drain well)
pinch of salt as needed
⅛ teaspoon Chinese five spice powder (optional)
vegetable oil for frying
How to
In a large mixing bowl, stir water to flour until combined. Set aside for several minutes.
Finely chop the scallion; add to the bowl; add pinch of salt and five spice powder; continue to stir until everything is combined.
Heat up around 2 tablespoons of cooking oil in a pan. Scoop the mixture and pour into the pan. Swirl it evenly by rotating the spoon to make a basic round pancake. Pan-fry over medium fire for around 2-4 minutes until one side becomes golden brown; turn over for another 2 minutes. Transfer out and absorb the extra oil with kitchen paper. When serving, cut into small wedges.
Recipe source: China Sichuan Food
Rice flour pancakes, gluten-free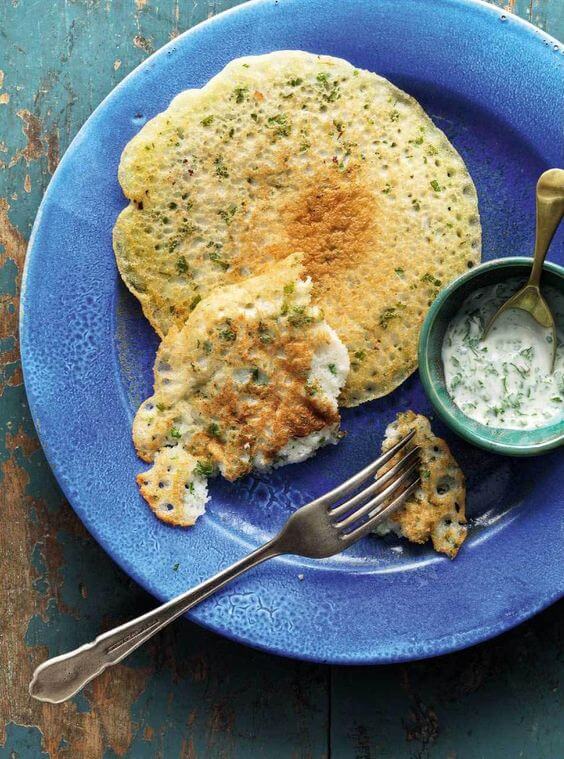 (source)
We tried one of Madhur Jaffrey's recipes and we can say these pancakes are a real treat! Enjoy them for breakfast or as a snack paired with chutneys and pickles. You can even have them as a light lunch with a salad. For these you need:
20ml natural yogurt
140g rice flour
1/2 tsp salt
1-2 fresh hot green chillies, finely chopped
1 tbsp finely chopped fresh coriander
3 tbsp olive oil
How to
Empty the yogurt into a bowl. With a fork or whisk, beat it lightly until smooth and creamy. Slowly add 350ml water, mixing it well as you go.
Put the rice flour and salt in a separate and larger bowl. Slowly add the yogurt-water combination, mixing it in until everything is thoroughly blended. Add the chillies, shallot and coriander and stir well. Set aside for 1-2 hours.
Set a non-stick frying pan over a medium heat and add 1 teaspoon oil. Meanwhile, add the coriander, chilli and cumin seeds to the batter and stir well.
Take a ladleful of the batter and pour it slowly into the pan, letting it expand into a circle about 15 cm/6 inches in diameter. Let it cook for about 2 minutes, or until the underside is golden red. Flip it over and cook the other side for another 2 minutes or so, until it is golden-red as well.
Recipe source: The happy foodie
Leftover squash pancakes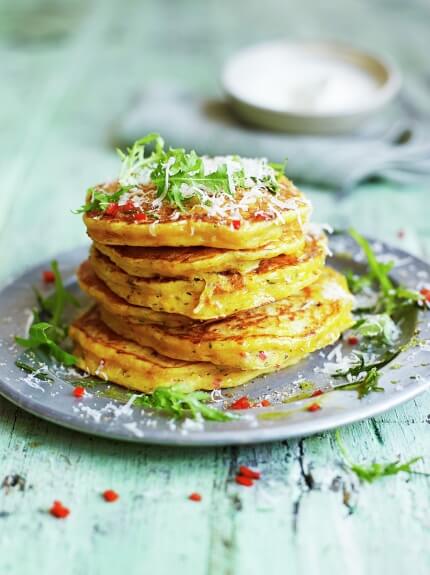 (source)
A flavorsome batch of hotcakes combines only the finest herbs: have a look at Jamie's recipe. What you need:
250 g leftover roasted squash
1 fresh red chilli
2 sprigs of fresh rosemary
30 g Parmesan cheese, plus extra to serve
1 large free-range egg
280 ml semi-skimmed milk
150 g self-raising flour
1 whole nutmeg, for grating
olive oil
rocket
How to:
Remove the skin from the roasted squash, then deseed and finely chop the chilli. Pick and finely chop the rosemary leaves, discarding the stalks, and finely grate the Parmesan.
In a large bowl, mash the squash with a fork, then whisk in the egg, milk and flour. Add the chilli, rosemary, Parmesan and a grating of nutmeg.
Heat a little oil in a frying pan and, once hot, add half a ladle of mixture per pancake into the pan. Cook for 1 to 2 mins on each side, until golden and crisp.
Keep warm in a low oven until ready, then serve with and extra grating of Parmesan and some rocket.
Recipe source: Jamie Oliver
SWEET
Whole wheat & Honey Infused Pancakes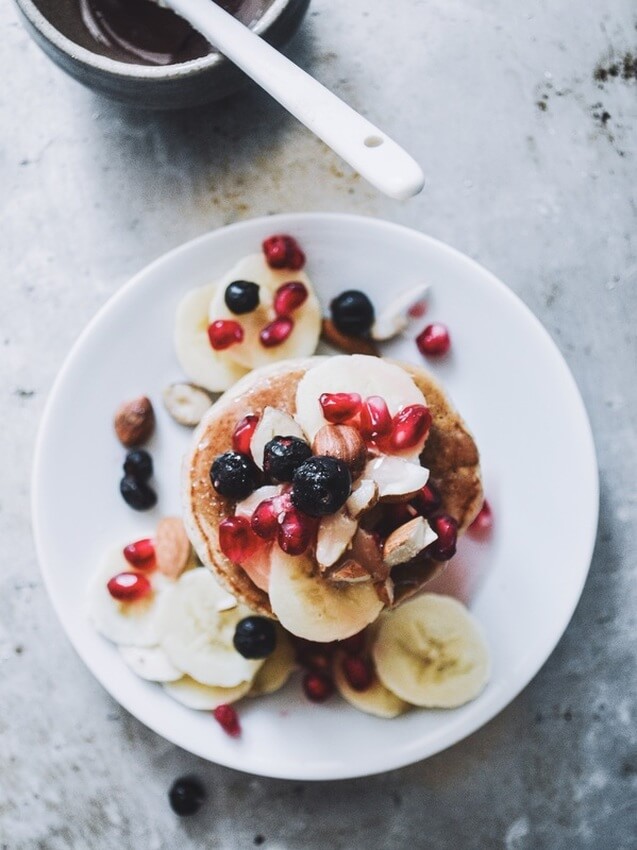 (source)
Earthy, slightly sweet and a secret ingredient? YES, please! Check out this beautiful recipe. You'll need:
200 g whole wheat flour
200-300 g almond milk/ spring water
2 tbsp coconut sugar
1/4 teaspoon baking powder
1/4 teaspoon baking soda
big pinch of salt
pinch of vanilla paste
1 teaspoon lemon zest
1 teaspoon virgin olive oil
toppings (fresh fruits, nuts, seeds, dried fruits, honey, agave, maple syrup, jam, chocolate, almond butter, etc)
How to:
Start by mixing the dry ingredients, then add the almond milk/water and oil. Adjust the liquid as you like [ if the batter is liquid, the pancakes will be more puffy, if the batter is a bit thicker, they will become more dense]. Stir really well until there are no clumps in it. Cook the pancakes on a medium heat, and stack them up on top of each other to prevent dryness. 
To serve, top with everything you have on hand. I used sliced banana, pomegranate seeds, raw hazelnuts, freeze dried blackcurrants and drizzle of honey.
Recipe source: Herbs & Roots
Carrot Cake Pancakes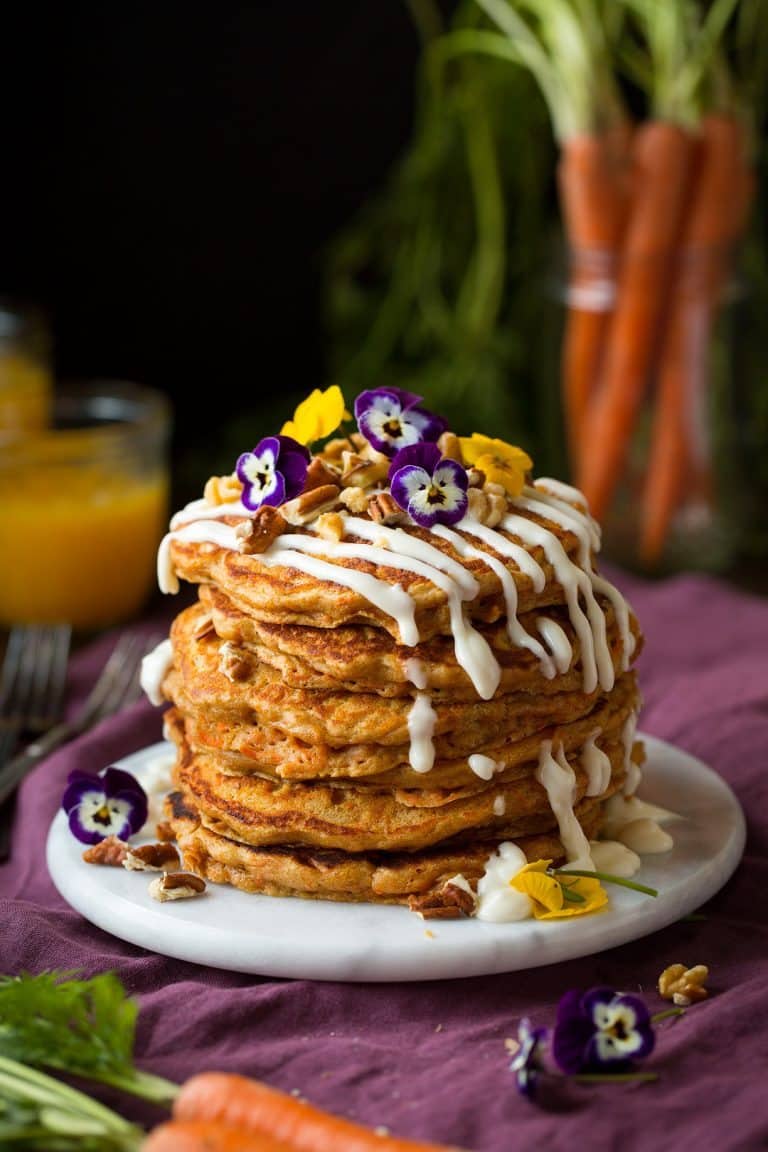 (source)
Carrot cake for breakfast? Why not? But carrot cake pancakes for a hearty brunch, next to a cup of your favourite coffee/tea? #nextlevel! Here's all you need to make this deliciousness in your own kitchen:
1 1/2 cups (6.8 oz) finely shredded carrots
1/4 cup (2 oz) unsalted butter, diced into 1 Tbsp pieces, plus more for griddle
2 cups (10 oz) all-purpose flour
2 tsp ground cinnamon
1/4 tsp ground nutmeg
1/4 tsp ground ginger
1 1/2 tsp baking powder
1 tsp baking soda
1/2 tsp salt
1 1/2 cups (355ml) buttermilk
1/4 cup (60ml) milk
1/4 cup (2 oz) packed light brown sugar
3 large eggs
1 tsp vanilla extract
1/2 cup chopped pecans or walnuts
How to:
Melt butter in a 10-inch skillet over medium-high heat. Once butter is melted add carrots and saute just until tender, about 3 minutes. Remove from heat and set aside until cool.
Heat an electric griddle to 375 degrees (or you can use two non-stick skillets to cook the pancakes, wait to preheat over medium heat until you're almost ready to cook them). In a medium mixing bowl whisk together flour, cinnamon, nutmeg, ginger, baking powder, baking soda and salt for 20 seconds. In a separate mixing bowl whisk together buttermilk, milk, brown sugar, eggs and vanilla. Add carrot mixture to buttermilk mixture (using a spatula to scrape excess butter from pan into bowl) and whisk to combine. Add flour mixture into buttermilk mixture and whisk just until combined (careful not to over-mix or pancakes won't be as fluffy).
Butter griddle or skillets and drop about 1/3 cup batter at a time onto griddle (batter will be thick) then spread into an even round, about 5-inches wide. Cook until bottom is golden brown then flip and cook opposite side until golden brown. Repeat process until all of the batter has been used up. Serve warm topped with cream cheese glaze and pecans.
Recipe source: Cooking Classy