I went to see May Hands' show in London on a Sunday morning. It wasn't official, but then we didn't need it to be official, as we know each other for a few years now since we first worked together. I got off the train near Hackney and made my way towards the gallery, strolling these unknown streets like a mouse in a new mousetrap. A few secret places, graffiti walls and obscure street ends, and I had arrived at Supplement Gallery, entering through a back door (or was it the main entrance?). May was just about to take the exhibition down and back to where it was created: to Brighton. Luckily, I arrived just on time to… sense it.
Because 'to see it' wouldn't be the right verb. And maybe 'sense it' either, but it is the closest I can get with words sometimes. Imagine a performance of layers: textures, colours, materials, forms – organic and synthetic. It wasn't a collage, but more like a living painting, where just like in a fantastic story, you can step inside, you can put your foot on its concrete floor and look up to its cloud-like, rose and turmeric dyed, fragile fabrics. You can turn your head all around and as you walk deeper into the painting, unexpected installations seem to be observing you while you observe them.
Are they memories? Are they emotions?
They certainly have been loved for a very long time, as May explains, all of the lost and found, dyed and hand-made, natural and reused, they are all part of her universe.
But I wanted to find out more about the relationship between emotions and art.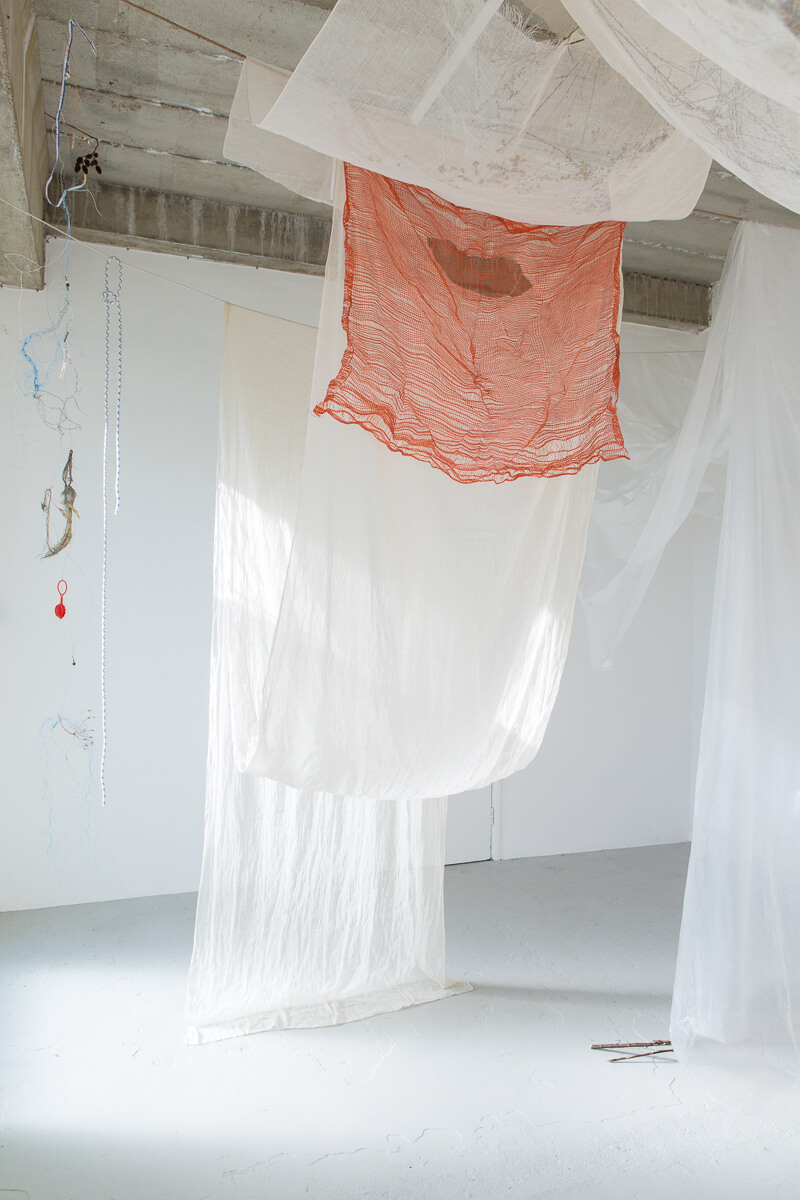 Installation View - I've Loved You For a Long Time May Hands, Supplement London 2018
The title of your exhibition is like a little poem, it's very beautiful. I know you mentioned it's related to the objects you collect, keep and care for; but tell me more about that.
May Hands: The title for the exhibition was something I had in mind before the exhibition, it just needed to find without force the right exhibition, the piece of work, series or writing to fit with as it has a personal meaning to me. As preparing for the exhibition I realised this was the show it belonged to, all of the materials I was working with were materials that I loved and some of which I had not used in my artwork before but had long admired in different concepts. Bringing these certain objects into my art practice for the first time has felt vulnerable in some ways as I have an emotional connection and I am sharing a deeper layer of myself with others.
Presenting these objects to an open audience means they are exposed to different kinds of relationships and emotions with the audience. Sharing something you love is both daunting and wonderful, seeing people's reactions and hearing their responses to the exhibition has been a really healthy experience, I have learnt a lot and my practice has developed more than I expected.
What is your oldest memory of making art?
May: Painting onto a canvas as a gift for my grandparents, I was about 3 years old, the canvas was as big as me and I was painting it in the kitchen of the house I lived in until I was 5 year old. I had absolute freedom to spread paint around on this surface however I liked. There are a home video and photograph of this memory, but I distinctly remember facing the canvas, brush in hand and that brightness of the white canvas reflecting back at me.  It was the first time I ever painted on such scale and on a surface other than paper.
My Father is a painter and so grew up watching him painting in his studio, I remember feeling so excited to be doing what my dad did and on canvas! I was not at all afraid or intimidated, just felt pure and utter enjoyment.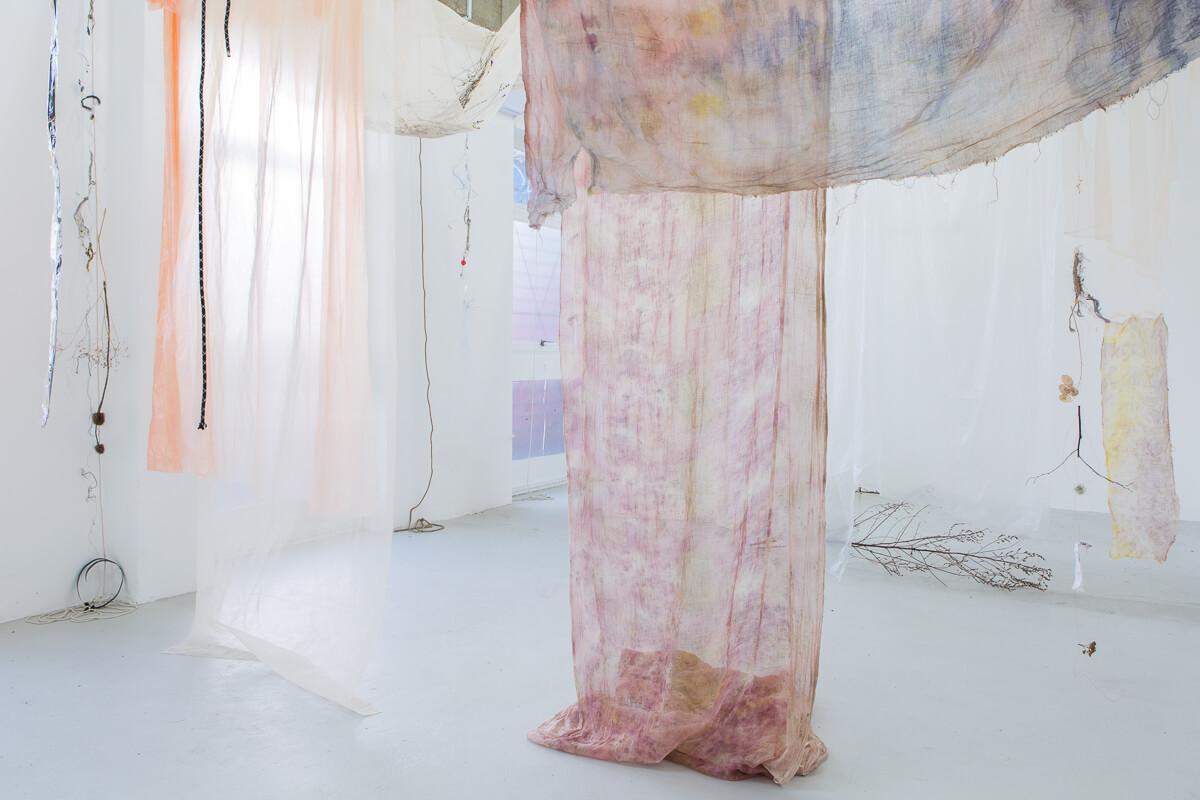 Installation View - I've Loved You For a Long Time May Hands, Supplement London 2018
When did you realize you have this love for nature?
May: Nature has always been a love of mine and I think for most people this is the case. However after living in London and away from the sea for 5 years it really deepened and I began to search for moments of nature in the urban environment I lived in. Feeling bursts of excitement when I spotted moss growing on roofs or brambles climbing over iron fencing.
Seasons became more important to me, treating each one as a celebration and ritual. Observing the contrast of nature and the man-made world became an everyday activity and fed its way into my work.

I love the range of forms found in nature, the strength and fragility, the array of colours and tones. Nature is ever changing, growing, shedding and reproducing; it is an endless cycle that I am forever learning from.
In your exhibition, you mix textures, colours, materials, shapes and emotions – are these layers of a bigger picture or micro-universes?
May: The installation I see as a painting in which the viewer is invited to step into and explore beneath the different layers of what makes up the 'painting', finding moments that perform beautifully on their own yet are part of the whole picture too. I suppose these moments are micro-universes; you can dive into them and find details that you might not have noticed had they been in their everyday environment. 
How do you choose what to use? How do these objects "communicate" with you?
When foraging for materials I am not just responding to the visual qualities of what I discover, but the atmosphere and emotion of the place in which I find them. Memories that are installed between particular objects and myself have an impact on what I select too. For example, for this installation, I used plants that hold an importance to where I sourced them, places such as my Grandma's garden, my partner's family garden, Hackney woods, Regents canal and my parent's garden. The objects I use do communicate with me, they trigger an emotion in me, whether that's awe and wonder, appreciation of form, seduction to its visual qualities, nostalgic emotions, desire, love or sadness. All the materials I use have their own story; I could tell you where each item came from and why I choose it.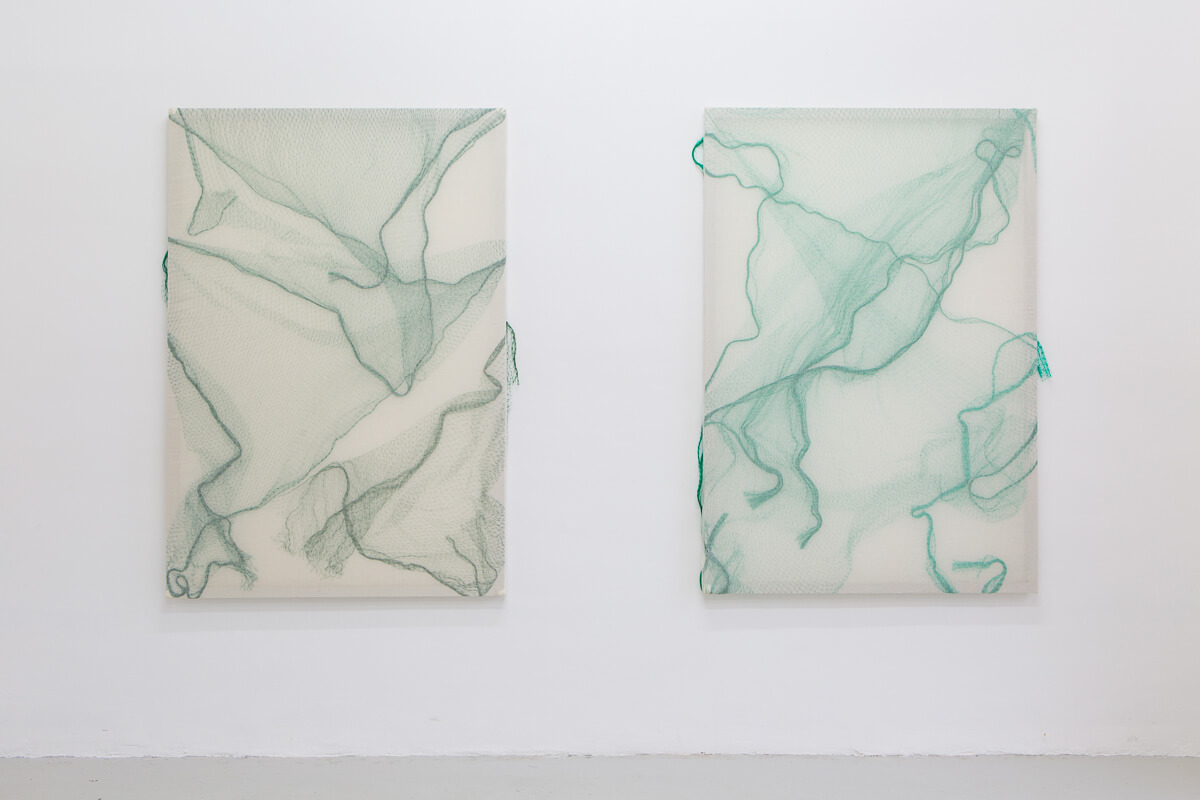 Installation View - I've Loved You For a Long Time May Hands, Supplement London 2018
How much of it is emotion, how much is planned?
Emotion happens first, when I first come across the material in its original environment and invite it to be part of my creative process. If I don't feel anything for a material it won't be used. The emotion does not always have to be deep love or that it arouses a memory; it can be simply that I really like the colour of it, or that it makes me feel uncomfortable.  Just some responsive connection needs to be stimulated. Then as I get to know the material and begin forming a relationship with it, I can plan how it may interact with other materials and within a space. I had a clear idea from the start that I wanted the exhibition to be sensual and evoke emotion and celebration for the materials on display, so this was a plan of some kind. I knew naturally dyed fabric and translucent sheets would hang from ceiling to floor and the viewer would be invited to explore these layers, but how exactly it would hang could only formulate as I spent the week installing. This was my plan, to spend time in the space and respond to the materials I had, the changing natural light that came through the windows, and the character of the space. The directors of Supplement gallery were so supportive of my vision and gave me freedom and trust to create so intuitively. I continued to explore my emotion with the materials throughout the install, the duration of the exhibition, the de-install and still now as they hang in varied assemblages around my studio. You can only plan so much, but with emotion, you can't plan anything as it continuously changes and is out of your control.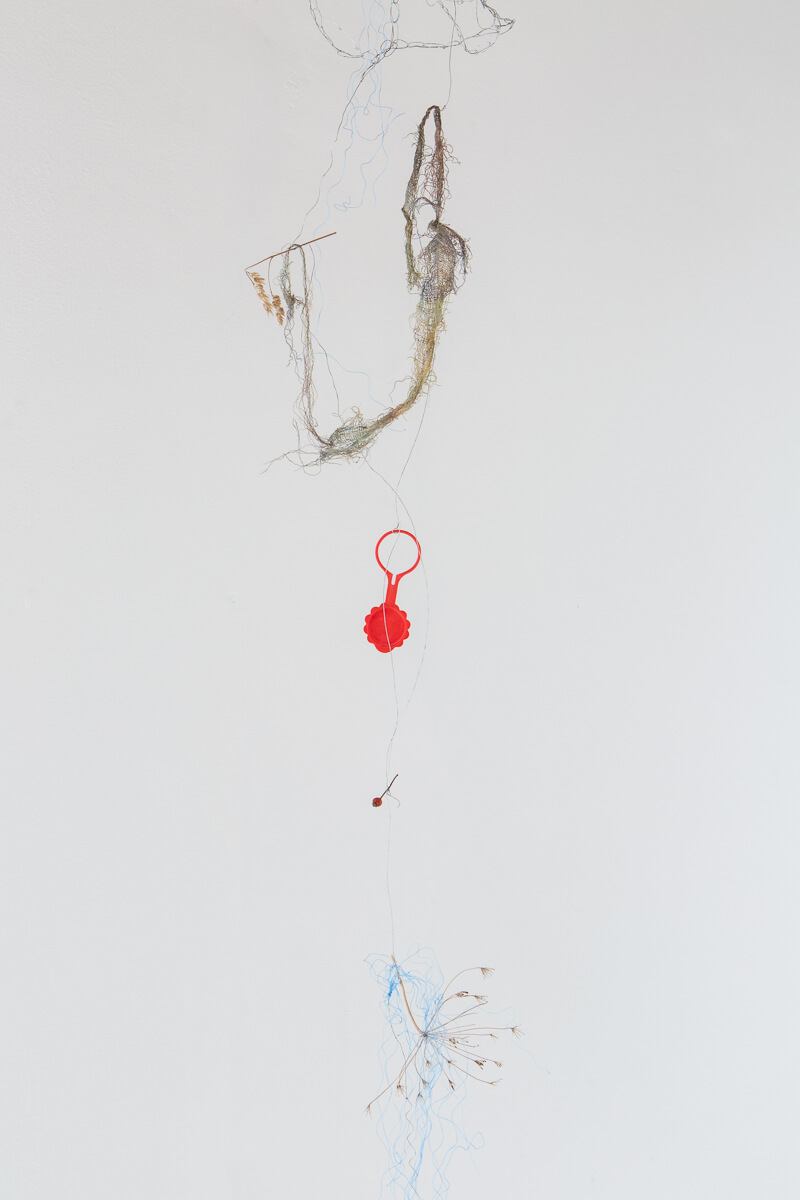 Installation View - I've Loved You For a Long Time May Hands, Supplement London 2018
Future shows? Collaborations?
Just opened is 'Counter Quality' at 650mAh in Brighton. It is a group exhibition with LIFE SPORT, Tenant of Culture and myself. The exhibition features un/wearables, fakes, cut-outs, merchandise, second-hand and re-appropriated/re-valued consumer products. I am showing three works, one of which is a woven piece using leftover designer ribbons and debris material from my studio. The show is open 07/04/18 until 25/05/18.
Artist Sean Roy Parker and I are working towards a collaborative exhibition that is planned to hopefully come together during the month of May. The exhibition shall explore the up cycling of natural and synthetic detritus as art media and shall evolve and transform over its duration. A programme of events and workshops that use reusable waste products and leftovers shall run alongside the exhibition.
Photography by Rob Harris
May Hands (b.1990) lives and works in Brighton, UK. Graduated from Camberwell College of Arts (UAL), 2013. Recent exhibitions include Horizons at Coachwerks, Brighton, (solo); On Cold Spring Lane, Assembly Point, London; Fully Awake, Blip blip blip, East Street Arts, Leeds; Sell Yourself, East Street Arts, Leeds (all 2017); Not Every Thread Ties Down/ Your Split Ends Are Showing?, DKUK, London; Artificial Arcadia, Bosse and Baum, London; Maybe Your Lens is Scratched?, Slate Projects, London (all 2016); Women's Art Society II, MOSTYN, Wales; Freschissimi, T293, Rome, (solo); I have an Addiction, BACO, Bergamo; Bleach, Roman Road, London, (solo); Meloni Meloni, for LRRH_ art editions by, T293, Naples (solo), (all 2015). (source: http://supplementgallery.co.uk/exhibitions/may-hands/ )